In seguito all'aggiornamento di un client Windows 10 alla versione 1903, la connessione RDP in ingresso ha smesso di funzionare per motivi ignoti (internal error).
Fortunatamente, anche qui il registro di eventi Windows ci viene in aiuto e ci indica con precisione la causa del problema: il certificato autofirmato del PC.
event id: 1057

Severity: Error

Source:: Microsoft-Windows-TerminalServices-RemoteConnectionManager

Log: System

Message detail:

The RD Session Host Server has failed to create a new self signed certificate to be used for RD Session Host Server authentication on SSL connections. The relevant status code was: access denied
Per risolvere il problema di connessione RDP e rigenerare il certificato, spostate tutti i file contenuti nella cartella
C:\ProgramData\Microsoft\Crypto\RSA\MachineKeys\XXX
in una cartella di backup, in modo tale da avere la cartella sopra citata vuota.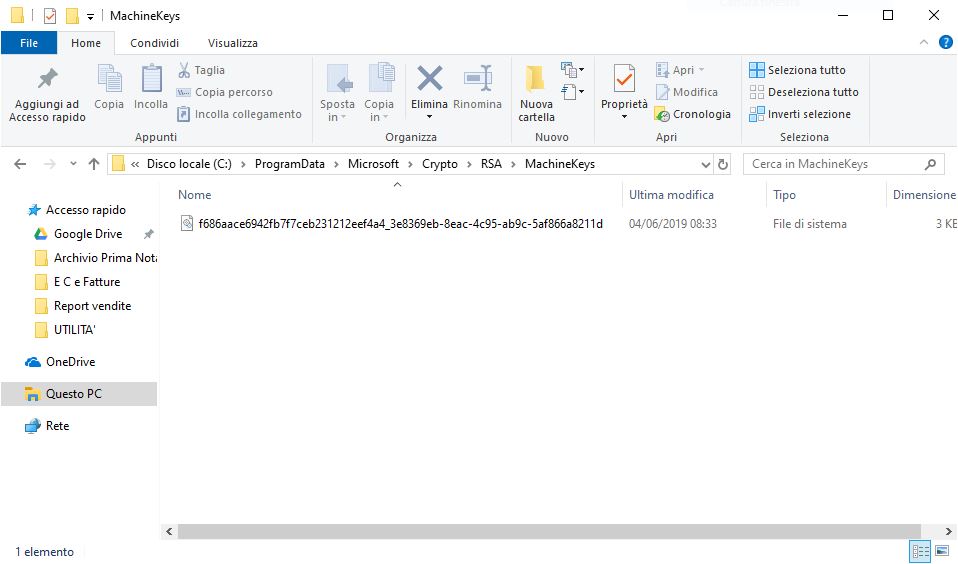 Eliminate le seguenti voci di registro e riavviate il sistema
"HKLM\SYSTEM\CurrentControlSet\Control\Terminal Server\RCM"  > Certificate
"HKLM\SYSTEM\CurrentControlSet\Control\Terminal Server\RCM" > CertificateOld
"HKLM\SYSTEM\CurrentControlSet\Control\Terminal Server\WinStations" > SelfSignedCertificate
Eseguite il comando seguente
certlm.msc
Eliminate i certificati del PC locale sulla cartella "Desktop Remoto"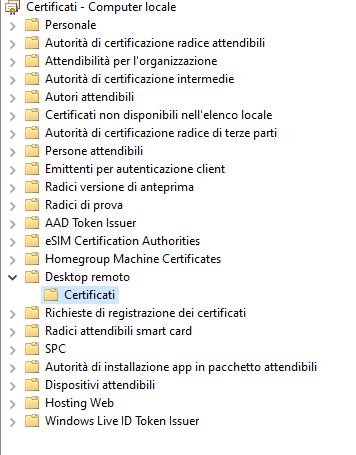 Il registro eventi di Windows ci dice che ha generato con successo il nuovo certificato autofirmato per la nostra macchina Windows 10, possiamo ora connetterci in RDP confermando il nuovo certificato, problema risolto!